Bismillahir Rahmanir Rahim
In the name of Allah, the Most Beneficent, the Most Merciful.
SalmanSpiritual.Com :: Towards the Inner Vision of the Truth
Latest Posts on the Salman Spiritual Knowledge Base
Special Revelation to the Holy Prophet Muhammad
Declaration of Perpetual Guidance Through Imamat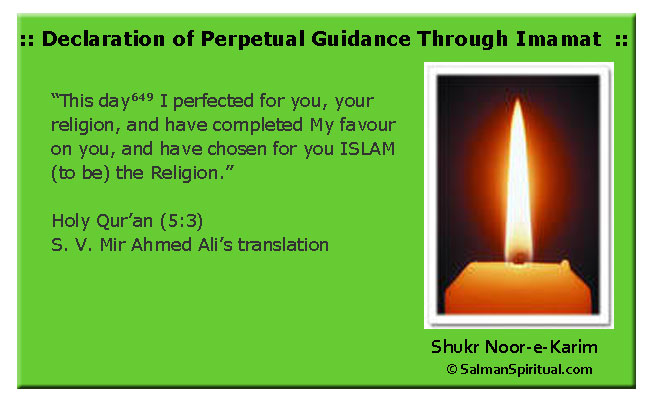 The Ones Who Humble Themselves Before Allah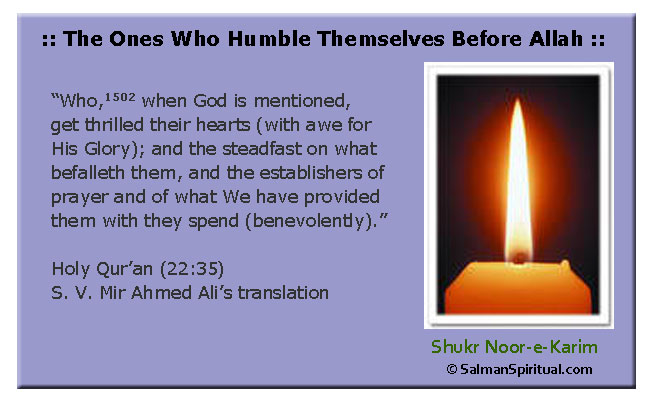 Ardent Prayers
May NOOR Mowlana Shah Karim Al-Hussaini Hazar Imam (a.s.) grant peace, prosperity, happiness, barakat, higher spiritual enlightenment, spiritual & luminous tayid (help) and empowerment to you, your family, your Jamat and the worldwide Jamat! Ameen.
May we all be blessed with many, many Batini-Noorani Didars in our personal search for higher spiritual enlightenment through the Noor of Mowlana Hazar Imam. Ameen.
Rakh Mowla je Noor te Yaqeen (Certainly, we trust in Mowla's Light only)
Haizinda — Qayampaya
(Our Present Imam is Living and His NOOR is Eternal)
Your spiritual brother,
Noorallah Juma