:: Enlightenment Norm #9 :: Submit Dues (Mal-i Wajibat) - 4 ::
Bismillahir Rahmanir Rahim
In the name of Allah, the Most Beneficent, the Most Merciful.
Ya Ali Madad. In Pandiyat-i Jawanmardi, Imam NOOR Mowlana Shah Mustansir bi'l-laah II (a.s.) teaches us about submission of dasond (mal-i wajibat):
"The tithe has been established by the King of Men Murtada 'Ali. He commanded the adepts of the Truth (haqiqatiyyan) saying that every one who is the follower of the Truth (ahi-i haqiqat), and has the desire of his didar, must pay the tithe from his income. By this he may secure the chance of the didar. The followers of the Shariat do not know and realize the implications (or symbolism, ramz) of this commandment. Thus every one who has connection with the Imam of the time must always pay his (religious) duty, i.e., the tithe, which is due to the Imam of the time, delivering it, and being ready to sacrifice at his command his own life and (the whole of) his property."



(Pir Pandiyat-i Jawanmardi, p.55)
Related Enlightenment Norms: 6, 7, 8, 10, 20, 21
May our beloved Imam NOOR Mowlana Shah Karim Al-Hussaini (a.s.) grant you, your family, your Jamat and the worldwide Jamat luminous (noorani) and spiritual (ruhani) tayid (help) to advance materially, spiritually and intellectually, and may He grant you the inner vision of the Truth. Ameen.
Haizinda — Qayampaya
(Our Present Imam is Living and His NOOR is Eternal)
Rakh Mowla je Noor te Yaqeen (Certainly, we trust in Mowla's Light only),
Noorallah Juma
Thursday, Jan. 8, 2004
Enlightenment Norms: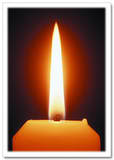 The lit candle represents the Light of Imamat. Let us actualize this Light into our spiritual hearts, heads, & consciences so that we may also be able to submit spiritual & luminous nazranas in the Diamond Jubilee.
Resources for Personal Search