Navroz: A Time for Rejuvenation of the Body, Mind, Soul and Intellect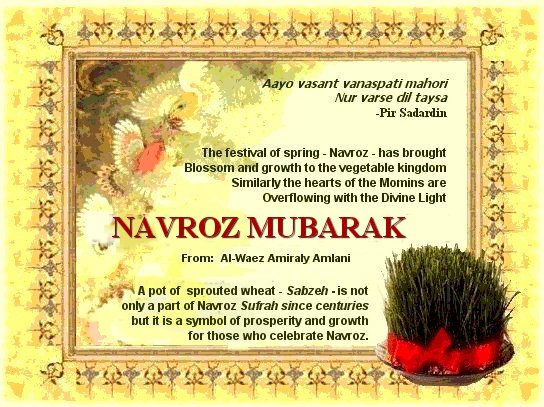 Navroz is a time for rejuvenation. In the Northern hemisphere, spring activates life in nature and fills one with hope, courage and inspiration. As each one of us exists in the worlds of matter, thoughts, dreams, soul and intellect, it is necessary to assess our performance in each component of our existence.
The Idd-e-Navroz card developed by Al-Waez Amiraly Amlani is a strong reminder for the need of balance between the physical, spiritual and intellectual components of our existence. Obviously, the search for Light (Noor), the highest form of Intellect, should be our top priority. May you be blessed with success in all components of your existence. Ameen.
Navroz Mubarak!
[ Idd-e-Milad un-Nabi 2005 | Holy Ramadan 2004 | Idd-ul-Fitr 2004 |
Idd-e-Navroz 2001 2002 2003 2004 2005 | Imamat Day 2001 2002 2003 2004 |
Salgirah 2001 2002 2003 2004 | 40 Prayer Cards 2004 | 25 Imamat Tawil Cards 2004 ]
Article by Dr. Noorallah Juma
Copyright © 2000-2003 All Rights Reserved - SalmanSpiritual.Com