Imamat Day: A Time for Reflection on the Paramount Position
and Importance of the Present, Living Imam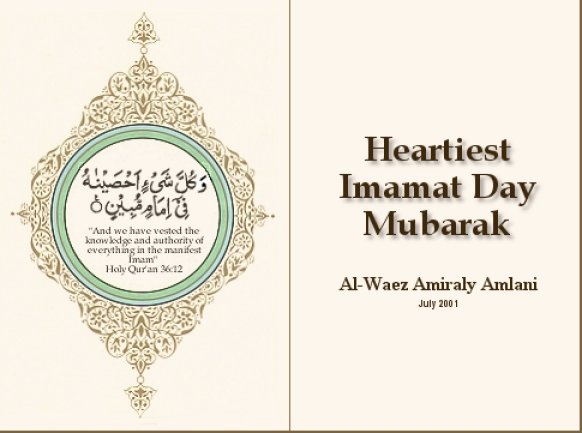 This is an appropriate time to reflect upon the following quotation:
"Remember that descendants of the Holy Prophet (S.A.S.) are stars in the Heaven, if one sets the other will rise to illumine your path; the Merciful Lord has thus completed His Blessings amongst you." Hazrat Ali (a.s.) quoted by Jafery, Syed Mohammed Askari. Nahjul Balagha: Sermons, letters and saying of Hazrat Ali, Khutba 103, 72-73.
I hope the poem on Salwat on inspire inspire you, your family and your friends to recite Salwat in anticipation of Imamat Day 2002. Also, please read an article on Salwat, and hear the recitations of Ayatul Kursi and Salwat, or continuous Salwat.
[ Idd-e-Milad un-Nabi 2005 | Holy Ramadan 2004 | Idd-ul-Fitr 2004 |
Idd-e-Navroz 2001 2002 2003 2004 2005 | Imamat Day 2001 2002 2003 2004 |
Salgirah 2001 2002 2003 2004 | 40 Prayer Cards 2004 | 25 Imamat Tawil Cards 2004 ]
Article by Dr. Noorallah Juma
Copyright © 2000-2003 All Rights Reserved - SalmanSpiritual.Com