Posted: 5:09 AM, June 12, 2003
Name:
nooruddin tejani
Location:
Comments:
i have thoroughly enjoyed this site, my lord u have done a rmarkable job, god bless u, i have asked a question that whether u have firmans of mwlana sultan mohammed shah on different topics if yes than give me the site address. nooruddin
Posted: 3:22 PM, June 10, 2003
Name:
Ameen Ali
Location:
Houston ( USA )
Comments:
Posted: 1:36 PM, May 29, 2003
Name:
Katherine PIescik
Location:
Atlanta ( USA )
Comments:
Posted: 10:33 PM, May 27, 2003
Name:
altaf jiwa
Location:
edmonton ( canada )
Comments:
some person who can not read but like to liste' to holy prays what do there need?THANK YOU for job well done! Altaf
Posted: 5:23 PM, May 07, 2003
Name:
zahraw
Location:
ontario ( canada )
Comments:
heyythis is a real good site! i learned alot from it! buh bye!
Posted: 10:46 AM, April 30, 2003
Name:
Quwat Khan
Location:
Yasin Valley ( Pakistan )
Comments:
its really good i am an ismaili i liked it but you also visit my site http://www.yasinvalley.cjb.net
Posted: 1:19 PM, April 22, 2003
Name:
Asif Barkat Ali
Location:
Hyderabad ( Pakistan )
Comments:
Your website is fill with full of knowledge.
Posted: 11:47 AM, April 16, 2003
Name:
rrizza
Location:
( Sweden )
Comments:
yam, Great work!:-)
Posted: 11:53 AM, March 30, 2003
Name:
Mohammad Ali Khorasani
Location:
Tehran ( I.R.Iran )
Comments:
I was very delighted to surf `SalamanSpiritual` website. Indeed it is very fruitful and interesting. I pray to Almighty Allah, the Merciful, the Compassionate to help, assist and guide you in further development of web site and specially for being in the service of mankind. Finally, Hazrat Hujjatul ibnul Hassan al Askari Imam al Mahdi's (may Almighty expedite his reappeareance) attention be upon you all. Insha'Allah. Ali Khorasani. Tehran - I.R.Iran
Posted: 10:22 PM, March 29, 2003
Name:
Meredith Ottoson
Location:
( USA )
Comments:
Hello! I found your site while looking for prayers for peace and was blessed by your selection of prayers. As a recent transplant from Alberta to So. California, it was indeed interesting to discover that you are also on faculty at the U of A. Your spiritual journey - from soil science to soul science - intrigues me. God's blessings as you continue to grow. Sincerest regards, Meredith Ottoson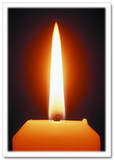 The lit candle represents the Light of Imamat. Let us actualize this Light into our spiritual hearts, heads, & consciences so that we may also be able to submit spiritual & luminous nazranas in the Diamond Jubilee.
Holy Ramadan Enlightenment Daily Posts
Holy Ramadan Enlightenment Posts :: Gems of Knowledge and Dhikr
(30 Days: May 15 - June 13, 2018)
Project for friends preparing for Imamat Day 2018
Anant Akhado Verses, Gratitude Dhikr and Angelic Salwat
(40 Days: June 2 - July 11, 2018)
Projects for friends in Vancouver
Anant Akhado Verses, Gratitude Dhikr and Angelic Salwat
(40 Days: May 23 - July 1, 2018)
Recitation of Ana(n)t nâ Nav Chhugâ, 28 dasond verses , Gratitude Dhikr and Angelic Salwat
(9 Days: July 2 - July 10 2018)
Other Potential Projects
Anant Akhado Dasond Verses
28 Dasond verses from Anant Akhado & Angelic Salwat
(9-day Project: TBA)
Anant Akhado Venti Verses
Vênti Verses from Anant Akhado, Gratitude Dhikr & Angelic Salwat
(7 Days: Friday, TBA 10 min before first dua)
Ana(n)t nâ Nav Chhuga
Ana(n)t nâ Nav Chhugâ verses, Gratitude Dhikr & Angelic Salwat
(9 Days: TBA)
Moti Vênti
Moti Vênti verses, Gratitude Dhikr &Angelic Salwat
(7 Days: TBA; 22 min before first dua)
Anant Akhado and Nav Chhuga Combined Project
Anant Akhado & Ana(n)t nâ Nav Chhugâ Verses, Gratitude Dhikr, dhikr of 99 Beautiful Names of Allah and Angelic Salwat
(49 Days: TBA)